10 Blocks of Art / 30+ Years of Fun
AGGV Moss Street Paint-In
The 3rd Saturday of July (every year) from 11am-4pm
Sorry, we won't be at this year's Art Gallery Paint-In.
It is a fabulous annual celebration of art put on by the Art Gallery of Greater Victoria.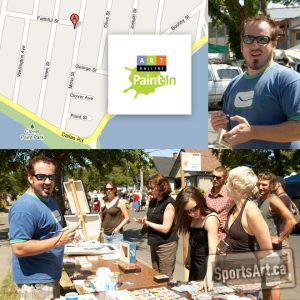 For a half dozen years, painter Jeremie White has participated in this engaging outdoor art event. On the third Saturday of every July, Victoria's Moss Street is closed to vehicle traffic and transformed to feature artists for the day. The city's Art Gallery invites over 170 artists to display and demonstrate their work.
Over 35,000 people take in the fun 
and interact with the artists annually.
Unfortunately, sports artist Jeremie White is not available for this year's event, but he hopes to participate in the Moss Street Paint-In again in the future.

See more information on the event: aggv.ca/paint-in