Artist Bio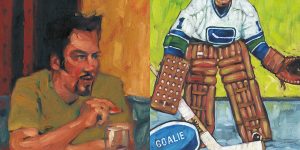 Jeremie White loves hockey, he loves sports, he loves art. The artist has designed this website to showcase these passions. The heart of this site is the Gallery – where you will find Jeremie White's sports artwork. The artist also acts as the gallery curator, showcasing the sports art of some of his favourite contemporaries.
Soon after launching this website, Jeremie White's "Hockey Heroes" exhibition was held at Hambleton Galleries in Kelowna, BC. The solo exhibition of original oil paintings was timed to coincide with the Memorial Cup in Kelowna / May 2004. He has never looked back.
These paintings have been inspired by the historical importance of hockey to Canada. Jeremie's childhood memories of collecting bubblegum cards has lead to his large canvas tributes of these Canadian pop culture heroes. A more innocent time is captured in these organic artworks.
Born in Vancouver, White studied Fine Arts, then Illustration and Graphic Design at Capilano University. He graduated with honours in 1991. For 25 years he has been a Graphic Designer and Art Director with Suburbia Studios, one of British Columbia's leading marketing firms. Jeremie is currently Suburbia's Director of Design and has enjoyed countless awards in his advertising, design and illustration career. During this time his oil paintings have been featured in Applied Arts, Report on Business and Cosmopolitan. His client list includes the Vancouver Canucks, EA Sports, McDonalds, 7/11, and the NHL. 
Jeremie White paints in oils, with a passion and energy that exposes the mark-making process. Using acrylic paints and gel mediums in his underpainting, he layers thick, bold brushstrokes of oil paint, creating texture and depth. The artist's inspirations include Malcolm Liepke and John Singer Sargent.
White has a passion for hockey history, coaches minor hockey, and still plays goal in a recreation league. Jeremie, his wife Jeanene, and two sons live on the west coast of Canada. Their home boasts a chair from the Montreal Forum – the centrepiece to a small hockey shrine. Check out the "Stories from the Hockey Room" video slideshows on this site. He comes by his love of sports naturally.
© 2018 – Our artists retain the copyright ownership of all of their images. All listed prices are for ownership of original art or print. The artist retains all reproduction rights.