Artist Bio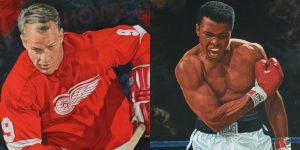 Glen Green was born in North Vancouver where he has continued to work and live with his family. Glen is a self-taught artist who enjoys painting a variety of subjects but is always drawn back to painting people, specifically sports personalities. He calls these works "Sportraits." In these mood paintings, the artist has a real gift for capturing his subjects in reflective moments. Because Glen has played sports his whole life and remains active today, he also accurately observes the athletes movements in his dynamic action paintings.
His subject matter has varied from Michael Jordan to Joe Montana, Bobby Orr to Wayne Gretzky, and Michael Buble to Bob Hope. A prolific artist, Green has been commissioned by the Vancouver Canucks, BC Lions, Chicago's Bradford Exchange, Molson Brewery, Tim Hortons, and Coca-Cola to name a few.
Glen was commissioned by The Royal Canadian Mint to design twelve Canadian circulation quarters featuring ten Olympic and two Paralympics sports. These coins were released in the three years leading up to the 2010 games in Vancouver/Whistler. There are 264 million of these coins in circulation.
Recently, Glen was once again commissioned by The Royal Canadian Mint to produce two Wayne Gretzky coins. He has also been asked by the Canucks to paint their "Ring of Honour" inductees as well as Markus Naslund upon his jersey number retirement. The original paintings were presented to each player at centre ice.
What is better than owning an art print? Owning the original artwork.
Glen Green's limited edition prints have become very popular and we are proud to offer the original paintings of such a well-known sports artist.
© 2018 – Our artists retain the copyright ownership of all of their images. All listed prices are for ownership of original art or print. The artist retains all reproduction rights.