Artist Bio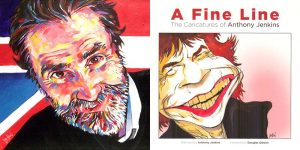 Anthony Jenkins was born in Toronto and spent a very happy childhood there. He enjoyed school and attended the University of Toronto and the University of Waterloo, graduating with a B.A. in English and Fine Art.
Between graduation and working for a living, Jenkins had a summer backpacking adventure around Europe. He was hooked!
For over three decades, Anthony's life work has been as an illustrator, cartoonist and occasional writer at the Globe and Mail, Canada's National Newspaper.
His formal training in old-school silkscreen and woodcut techniques are evident in Jenkins' work. Over the years Jenkins has mastered his craft, simplifying and flattening colour, to create art with elegant, functional linework. When the Globe went colour in 1998, he did likewise and began to paint in acrylics, taking courses at The Toronto School of Art and at OCAD.
While working at the Globe and Mail he took multiple leaves to travel. He has now retired from the 9 to 5 gig, continues with his fine art and has travelled by backpack through 84 countries so far. 
Jenkins' newspaper illustrations were usually in black and white, which fostered his love of dramatic colour. He notes that the African nation of Mali presents an inspiring and eye-popping riot of colour in a landscape of unrelenting Saharan beige. Anthony's overwhelming favourite subject remains the human face.
During his career, Anthony Jenkins' work has also appeared in the Wall Street Journal, Maclean's Magazine, the South China Morning Post, the Melbourne Age, and the Straits Times in Malaysia, Anthony's illustrations have graced the pages of the Lonely Planet travel guides and the covers of many books for various publishers.
In 1985, Lonely Planet released a book Jenkins wrote and illustrated called 'Traveller's Tales – An Illustrated Journey through Australia, Asia and Africa'. More recently, 'A Fine Line; The Caricatures of Anthony Jenkins' was published in 2013.  The book is available at nestlingspress.com.
Anthony is married to a lovely woman, has two grown daughters, and lives in the beautiful countryside of Mono, Ontario.
In the SportsArt.ca Gallery you will see that the "Game Faces" table hockey paintings have all sold out. Jenkins' is available for commissions, the tricky part will be tracking down the retro table hockey games to use as his canvas.
© 2018 – Our artists retain the copyright ownership of all of their images. All listed prices are for ownership of original art or print. The artist retains all reproduction rights.